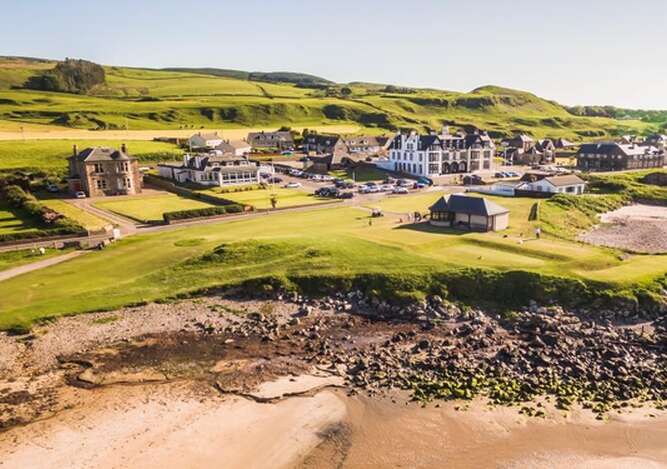 Golf
Situated on the Kintyre Peninsula 140 miles by road from Glasgow, Machrihanish Golf Course is well-known throughout the world as a first-class natural links course.
Described in 1878 by Old Tom Morris as
"specifically designed by the Almighty for playing golf"
The course presents golfers with a challenging and spectacular opening drive across Machrihanish Bay. This first hole was recently voted the finest in the world.
Little has been changed to disturb the natural scenic beauty and inspiring challenge of this delightful course. The outward nine holes follow the hills and hollows among the sand dunes bordering the Atlantic. Each hole requires accurate tee shots and carefully chosen irons to reach the expertly maintained putting surfaces.
The inward nine holes are no less demanding as they stretch back home against the backdrop of Kintyre hills. Two par fives and three tricky par threes have to be negotiated until, within sight of the clubhouse, the Machrihanish burn has to be driven while avoiding the out of bounds which borders the final two holes. With the variable strength and direction of the wind, the course can provide a completely new challenge each time it is played.
There is also a nine hole golf course with a Ladies Clubhouse and 2 practice areas.
The first-time visitor is struck by natural beauty of the links and the friendly attitude of the members who welcome golfers from across the globe who have come to play this unique course.
A refreshment in the relaxed, informal atmosphere of the clubhouse while watching the sun set over Islay will complete the golfing experience of a lifetime.