Close Attractions
Springbank distillery is one of three locals whiskey distillerys and is known world wide, at dellwood you are only a 5 minute walk from springbank helping the avid whiskey lover have a safe and comfortable trip.
the MOK run or, mull of kintire run, has been bringing many people to our small town for many years, wither to run the 10K or the half marathon we are proud to host pipers just outside dellwoods gates to cheer on the runners. Book rooms around the time of the run early as we are always busy at this time.
The Machrihanish Golf Club is a classic Scottish links course situated in Machrihanish at the southern tip of the Mull of Kintyre. The main course, with views of the western seaboard including the Paps of Jura and Ireland, was ranked the No. 39 course outside of the United States by Golf Digest in 2005.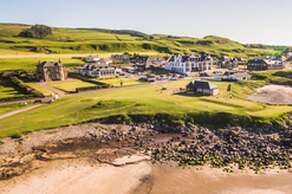 Campbeltown Airport is located 5kms northwest of Campbeltown, near the tip of Scotland's Kintyre peninsula. Until 1997 the airport was under military auspices, serving as a Royal Air Force and NATO air base. That is why this tiny airport's runway is one of the longest in Europe. Today, the airport hosts regularly scheduled Loganair flights to and from Glasgow. The small terminal is open Monday through Friday from 9:30 until 17:30, and is closed on weekends (unless by arrangement). Among the area's attractions is the Machrihanish Golf Club, a few kilometres from the airport, which has the distinction of being voted as having the best 1st hole in the world.A small car park offers short- and long-term parking within walking distance of the terminal.
Island Davaar or Davaar Island is located at the mouth of Campbeltown Loch off the east coast of Kintyre, in Argyll and Bute, Scotland. It is a tidal island, linked to the mainland by a natural shingle causeway called the Dhorlin near Campbeltown at low tide. The crossing can be made in around 40 minutes.
Glen Scotia distillery or sometimes affectionately known as The Scotia or Old Scotia is a distillery that is a producer of single malt Scotch whisky. The distillery was founded in 1832 in Campbeltown, Scotland.
Campbeltown Heritage Centre
The Campbeltown Heritage Centre is a museum and heritage centre in Campbeltown, Argyll, Scotland. The centre is the main repository for social history for the Kintyre Peninsula from around 1700 to the present day, and is run by the Kintyre Amenity Trust.